Paint for doors MDF is in retail. The name itself says what it is for.
Today we will tell how to paint the door of MDF. All work is done entirely by hand and therefore the price will not be high.
But having done a good job you will make the doors attractive and they will simply decorate the room. In the video in this article you can learn about the varieties of this material and can choose it correctly.
We do painting of MDF
How to paint MDF doors is not an easy task, but before starting work, you need to purchase the necessary materials and tools so that in the process of doing the work you do not get distracted by their search.
So:
First of all, you need to choose a paint color.It is not difficult to choose a suitable shade, it can be done through the manufacturer's catalog. But if this option does not suit you, you can create a unique, exclusive color of paint, for this several paints are mixed at once, not forgetting to use paint from one manufacturer.
Paint for MDF doors is quite different and you need to realize that it must necessarily have, as moisture-proof and heat-resistant characteristics. Moreover, it should be strong, durable, and of course, not be fed one way or another mechanical stress.
Attention: It is important to note that alkyd paints, autoenamels are the most popular and demanded today. As soon as the paint is purchased, you need to purchase other materials, tools that are necessary for the work.
Before purchase should be studied instruction dye. After all, the manufacturer can provide the technology to cover and this should be known.
Required Tools
Before deciding how to repaint the doors of the MDF, it is necessary to prepare the necessary tool, while working, there will not be just time to be distracted:
Roller;
Primer;
Sandpaper;
Masking tape, gloves and brushes.
These are the most important tools that must be acquired without fail.
Do the painting yourself
Now let's look at the details of how to paint the door MDF. Speaking in general about the process of painting the surface, I would like to note that at the very beginning preparatory work is carried out, after which the finishing material is applied.
Preparatory work
If the furniture is painted, then you need to properly disassemble it, it is not necessary to completely unwind the furniture, because you can separate the necessary parts that you are going to paint.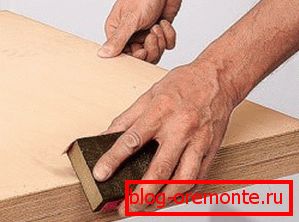 So:
If the furniture is equipped with glass inserts (see Decorative glass for doors: how to choose correctly), handles, then they are best removed, this also applies to other elements of the fittings.
Attention: In the event that we are talking about surfaces that are located near gas burners, for example, then you only need to use fire retardant paints for metal.
First of all, the facade should be freed from the old paintwork, and the facade should be thoroughly cleaned of dust and dirt.
Using sandpaper, you need to carefully clean the surface.
Now you can apply a primer to the surface, but before that, not forgetting to thoroughly shake the composition.
To prepare the MDF surface, you need to use a primer for wood, in that case, if the facade has plastic elements, then they are treated with a special primer, which is intended for plastic.
After applying the primer, you need to allow it to dry out, letting it soak in as it should.
Useful tips on painting
As soon as the preparatory activities are completed, you can begin to start working with paint:
You can paint the product with paint, as a result, getting both glossy and matte finish, here everything depends on your chosen paintwork material.
Attention: If you want to get an original and attractive surface, then this can be done when glizal is used in the work.
In the event that paint is used in the work, then you should not forget carefully to read the instructions, which will allow you to do everything correctly and efficiently.
Using the tape, you can protect the important parts, which will be painted in different colors.
As soon as the paintwork material is applied, it is necessary to allow it to dry out, and only after that the second layer can be applied.
After the paint is dry, all the elements need to be screwed back, thereby installing glass inserts.
How to cover MDF glizalyu
It is possible to cover furniture with the help of lizal, but this work also requires adherence to important technology, nuances and features:
For example, if you are satisfied with the selected color of licked, then you need to work with this composition.
Experts say that if there is a desire, then a slight amount of paint of a different color can be added to the glazal, thereby obtaining a different shade of coating. If you need to dilute the mass to a certain consistency, then water is used.
Attention: Before you begin to apply the composition to the surface, it will not hurt to test it on paper, so you can see if the composition is the one you dreamed about or not.
It is not as difficult to paint the door with a lizar as it seems, putting on gloves and preparing a sponge, you can begin to work. Glisal should be applied to the facade with a brush, trying to make it an even layer, which should not be too thin.
Attention: In the event that the layer turned out to be thin, then it is necessary to apply the material in two layers to the surface, without waiting for the first layer to dry.
As soon as a layer of paint is applied, it must be cleaned with a sponge, you can see fancy bubbles appear on the facade, this comes from the sponge, or rather from what size of pores it has.
Using glizal, you can paint the door both completely and in separate areas, so you can create a unique design. Be sure to take into account the fact that the creation of texture on the surface, is possible only when the material does not begin to dry.
After all, until the drying takes place, it is possible to correct one or another section, but after the material has begun to dry, it is not recommended to touch it, because there is always a risk to spoil the coating.
After complete drying, the surface must be polished. For this it is best to use a drill with a nozzle. You should not put large turns in the drill, you can just spoil the surface.
In general, in order for the material to dry out for at least a week, then the surface is varnished, it can be applied in one layer.
Attention: Starting to choose a varnish, it is best to choose precisely transparent compositions, because they are able to maintain a constant shade of paint.
After the varnish has dried, all the furniture elements can be returned to the place, enjoying and enjoying the work you have done. After all, if you follow simple recommendations and uncomplicated advice, then the work will be carried out qualitatively, efficiently and in an original way, and this is what you yourself dream about.
Paint paint doors MDF should begin only after the submission of the final version of the product. Look at the photo and decide immediately with the color and design, and only then proceed to work. Otherwise, you risk just spoiling everything.