Insulation for the door is quite different. But this option is worth knowing, especially when buying a finished design.
Today we will try to figure out which insulation is better for doors. Finishing material can be quite different, there are MDF doors with insulation and trimmed with other materials, but the insulation is especially important today, it primarily retains heat in the room and saves on heating costs. Now let's see which insulation is better to choose.
Materials for insulation
Door insulation not only retains heat, but also acts as sound insulation of doors, this is especially true in an apartment building. Therefore, when choosing a door, you should pay particular attention not only to its finishing material, but also to ask what kind of insulation in her canvas.
And if you do the door with your own hands, then you need to correctly decide which door insulation to choose.
Cellular door filling
Such material is quite common. He got the name of the method of laying, which is performed as a honeycomb.
So:
This material not only makes the door warmed.but also is an excellent sound insulation. Gained popularity due to low cost, its price is much lower than analogs;
The main material of manufacture is corrugated. It is an environmentally friendly material that does not harm human health;
Perfectly tolerates temperature extremes and high humidity. Suitable for warming the front door;
This material has a fairly high stiffness and resistance.that horizontally and vertically;
Also in his favor says and not much weightwhich will not affect the hinges of the door.
Mineral wool
This material is made from minerals. It has quite large indicators in noise and heat insulation.
Basalt insulation door - this is mineral wool:
High humidity and temperature drops will not harm it;
A rather high service life also speaks in favor of this material;
In his favor says and high environmental friendliness;
Not a big price also attracts the consumer;
There is one drawback, it shrinks over time and after that there will be voids in the canvas.
Attention: when insulating the door with mineral wool, additional stiffening ribs should be installed, which will not allow the material to sag. Moreover, the installation base is worth the glue.
Let's look further at what heater to choose for the door.
Thermal insulation foam
Warming of doors with this material is done most often. You can see it in the photo and video. This design has many advantages over other materials.
So:
Such a door will have excellent sound insulation characteristics;
Moreover, this material is environmentally friendly. and does not harm human health;
Pretty simple installation. All this can be done completely with your own hands, which will significantly reduce the price for the entire structure;
Lightweight will not contribute to sagging the door. Also this material does not shrink in the course of time and serves as an excellent heater;
The price of the material itself is quite low and anyone can afford it;
There is one drawback, it is susceptibility to fire. With its direct effect, the foam emits quite toxic odors.
Polyurethane insulation
Insulation of polyurethane foam doors is not often used. But when choosing a material, it should also be considered.
This is a completely synthetic material, which has its advantages:
This filler has a small weight, which is important when performing door finishing;
With it you can perfectly and evenly fill all the voids of the door;
Note: This material is not easy to install. You just need to do this only if you have a special nozzle or spray gun. And this is an extra cost.
This is a fairly tough insulation, where the cells are filled with gas;
Perfectly tolerates temperature extremes and high humidity. Installation on entrance doors is possible.
Plates foam
This material has all the positive qualities of the listed materials:
Making a construction using this material will provide both heat and sound insulation at the same time;
It is not subjected to stretching and compression, and therefore does not shrink for a long time;
It is not affected by temperature changes and high humidity;
Installation is possible and on its own and it looks attractive in the eyes of consumers.
Seals for door insulation
Warming of doors will not be complete without proper and high-quality installation of seals. They will not block all the gaps and gaps and will not allow cold air to enter the room.
They essentially eat two kinds: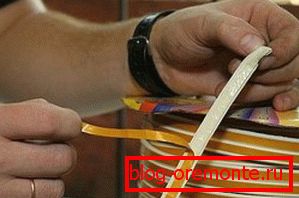 Self-adhesive insulation for windows and doors. To install it, it is enough to remove the protective film and mount it;
Seal that must be glued independently. This is done by applying glue.
Attention: Self-adhesive insulation for windows and doors should be selected according to the installation profile. To do this, you must correctly determine its thickness. If this is not done correctly, then in the process of time the door is simply deformed by the opening.
We select the seal thickness
Many do not understand how this is done correctly. Here, after all, to correctly determine the thickness, this is the most important thing.
This is done as follows:
We take clay in the right amount;
We roll it in the form of a thread;
Wrapped in cling film;
We spread out on the perimeter of the box and we press door;
Open the door. We have clay pressed and got the thickness of the desired seal.
Now you yourself can easily choose a self-adhesive insulation for windows and doors. Instruction is and you can get to work. The most important thing is not to hurry and do everything right.